Welcome To Author AKILAN'S PAGE
AKILAN- The ever green tamil writer...
Akilan the famous Tamil writer has been one of the most favorites to many tamilians... because of his realistic writing. AKILAN - P.V.AKILANDAM -- was born on JUNE 27TH at KARUR latter he spent his childhood and youthful days in PERUNGALOOR - PUDUKOTAI DISTRICT .Akilan wrote truth... what every one even dared to think. He was a gandhian at thoughts and was keenly interested in the upliftment of our society. So he quit his college predegree and followed Gandhiji's steps in India's struggle for freedom.
He said" a writer must not write what the reader asks for... but he must write what the reader actually needs to know". Akilan never compromised his writing for anything... that had made him so different and unique.
Awards
In 1975 the novel 'Chitra pavai' won the prestigious Gnanapit award. This work of his has been translated in all Indian languages. In 1963 his historical novel 'Vengayin mainthan' was awarded by Sahithya academy of Govt of India. Engepogirome a peculiar social-political novel of his won the Rajasir annamalai award in 1975.
His childrens book 'Kanana kannan' won the special prize given by Tamilnadu educational deparment. His works..'Kayal vizhi' and 'Nenchin alaigal'...'Sakthivel','Nilavinile','Nala payan' all won prices from the department of Tamil language developement.
.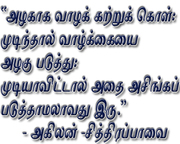 To view the site in Tamil click here:http://akilantamil.tripod.com
TRANSLATION... The author has writen about 45 titles... among them most of the works have been translated in all Indian state languages.Apart from this his works has been translated in other foreign languages such as... English, German, Check, Russian, Polish, Chinese, Malay ... and much more
(c) அகிலனின் அணைத்து புத்தகங்களும் காப்புரிமை சட்டத்திற்கு உட்பட்டது, காப்புரிமை : அகிலன் கண்ணன் இடம் உள்ளது , அகிலனின் எந்த படைப்பையும் எந்த வகையிலும் வெளியிடவோ, பிரதி எடுப்பதோ சட்டத்திற்கு புறம்பானது.

His works in other media...
His works has also been explored in other medias too...

Pavai vilaku -Akilan's famous social novel was filmed as tamil movie -Pavai vilaku-casting Mr.shivaji ganeshan as the hero..was well admired. Kayalvizhi was filmed by M.G.R as Madurai meeta sundara pandiyan.
His novels Chithirapavai,Vanama boomiya? ,Vengayin maindan have been staged as plays ...
they have been serialised in TV ,many of his books are dramatised and read out in Radio.Even in recent years his works like 'kaasu maram' was dramatised on dhoordharshan and all india radio
FOR QUERIES AND BOOKS WRITE TO THE FOLLOWING ADDRESS...
Tamilputhakalayam-Dhagam
#34 sarangapani street , (off thirumalai road)T.nagar,chennai-600017, Tamilnadu,India
PHONE-044-28340495 TELEFAX-044-28344528
OFFICE TIMING:10 AM TO 4.30 PM (MONDAY-FRIDAY)
tamilputhakalayam@yahoo.com
MR>K.N.MUTHAIA PUBLISHER -TAMILPUTHAKALAYAM TALKS ABOUT HIS FRIEND AKILAN
Akilan kannan about his father Akilan